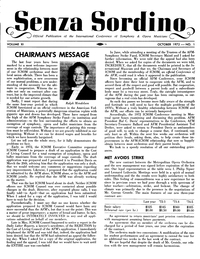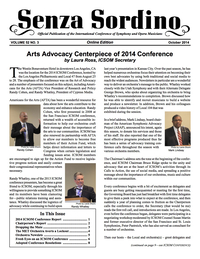 In 1962, ICSOM's founders knew that in order for our orchestras to survive and thrive they must unite, and a newsletter that could be read throughout the union and the field would be of great importance. For the first time, the issues affecting orchestral musicians could be reported and analyzed by those who knew the issues best—the orchestral musicians themselves. Senza Sordino (Italian for "without mute") would be the perfect name for this publication. Senza Sordino has been in continuous publication since January of 1963, and this archive constitutes a crucial history of symphonies over the past half-century, detailing how orchestras performed, thrived, suffered and emerged stronger both in our communities and our union.
Volume 52
Issue 1: May 2014
Issue 2: August 2014
Issue 3: October 2014
Issue 4: December 2014
Volume 53
Issue 1: March 2015
Issue 2: May 2015
Issue 3: July 2015
Issue 4: October 2015
Issue 5: December 2015
Volume 54
Issue 1: March 2016
Issue 2: June 2016
Issue 3: October 2016
Issue 4: December 2016
Volume 55
Issue 1: March 2017
Issue 2: June 2017
Issue 3: October 2017
Issue 4: December 2017
Prior issues going back to January 1963 can be read or downloaded in the Senza Sordino section of ICSOM.org.